Tuesday, April 18, 2006
Blogjects
A
paper by Julian Bleecker
from USC (found via
ZDNet blogs
) is dedicated to
Networked Objects
and "
Cohabiting with Pigeons, Arphids and Aibos in the Internet of Things
".
I especially liked what the author put on the title page (less orthodox, but extremely catchy!):
tag cloud:


spimes, spime, things, thing, lift06, ubiquitous computing, design, object, objects, rfid, arphid, arphids, pervasive networks, blogject workshop, near-field communication, nfc, web2.0, world 2.0



permalink:


Ever since this "blogjects" topic has started circulating, I've been asked lots of things, but two questions have come to the fore. First, why would objects want to just blog? Second, why would I care if objects "blog"?
"Objects that blog"?! I must admit I was a bit offended in the first place. Only we, humans, can blog, said my ego. But after reading more about these cute little blogjects, it started to make sense.
Bleeker describes them as having :
a sense of space combined with its ability to track where it has been,
knowledge of its encounters and previous experiences and
the ability to participate in an assertive way to social networks.
Hmm... Yesterday
blawgs
... today
blogjects
... Will we one day have a science called
Blogology
?!
Wow! Many people thought of this before -
says Google
...
|
permalink
Monday, April 17, 2006
Resouces mentioned at Contactivity...
In different occasions, different people indicated names, book titles and Internet resources.
Here's my little inventory - with links:
|
permalink
Sunday, April 16, 2006
Serendipity
Googling the name of Michael Stankosky (and misspeling it!) I fall on Joy London's blawg,
excited utterances
. Hmm... I always thought that legal firms are a very fertile soil for KM initiatives, but had no idea there were so many bloggers in this field!
|
permalink
Friday, April 14, 2006
Contactivity Day 1 - morning session
On Monday and Tuesday (April 10-11) I attended the
Contactivity event
organised by
KnowledgeBoard
and
London Knowledge Network
at
University of Greenwich
Business School.
I was looking forward to it, but until the last moment I wasn't sure if I will really make it, both budgets (time and money) being very tight.
And there I was, on a beautiful and fresh Monday morning in London, heading to Greenwich - Queen Anne's Building. Of course I forgot the printed indications on how to get there at home and had to find an Internet connection first!
I was there early, and I was happy to meet again some old friends, and to make the acquintance of some other people I had read about on the
Contactivity wiki
:
Martin Roell
,
Peter Troxler
,
John Curran
,
Ron Dvir
,
Julie Fenwick
.
We were invited in a big room with tables and I watched Martin trying to pick up a table - where he could learn the most, I assume. I sat down at an empty table because I found its label - Gamma- appealing. I found out later that a whole group of tables where labelled the same way, to give the chance of consolidating the results of the simulation. Soon, I was surrounded by 6 people I didn't meet before. It took less than 2 min when prompted to tell them all about myself. We had labels with our first names, but it was still difficult to figure out who was who. In another 2 min I found out that one of my neighbours was
Dan Dixon
from
Headshift
, and of course I had to show my enthusiasm about their concept and their work (I had the chance to meet and to listen to
Lee Bryant
at
BlogTalk2
). The other 2 guys in my team were Gary Bruton and Alan McKinnon. The other team at our table was formed of Corinne Floeck, Markus Lehne, and Mike Yeomans. We were to find out later that we were quite an interesting mix of academics, practitioners and consultants.
The simulation we were invited to participate in was a simulation on a project named
Cayenne
, designed by
Celemi
.
Martyn Laycock
made the introduction, mentioning the
well-known study of Standish Group
that made me so happy many years before, and explaining the rules of the simulation (I was ready to call it game, but it would be wrong to name it this way, we were explained). Why in particular I was happy that so many projects fail? Because I found out that mine was not the only one, and felt much more comfortable;-)
The guys in my team were very sharp, and they came up very quickly with a way to prioritise the decisions. We seemed to agree on most decisions. The thing I didn't agree with where the scoring cards - who can decide a decision is better than the other in a simulation?! It's all based on statistics, and statistics and real life do not get on well together. My mates seemed very interested, because the problems were the ones they were encountering in real life, and were very keen on seeing the results. Our scores looked incredibly well, but after aggregation with the other Gamma teams, we were average. It was good, because it made us think and talk and argue. Amazing how problem solving can bring complete strangers together in such a short time!
The next slot of time was dedicated to networking. Dr.T (Peter Troxler) and dr.W (Patricia Wolf) proposed a networking exercise. People were invited to find a peer they never met before, to find out everything about him/her in 2 min, and then each of the two was supposed to walk around the panels
and, with their partner's needs in mind, to find presentations of people he/she should meet (and write down their partner's name next to it). The exercise was interesting, because it involved empathy, and it gave each person 2 pairs of eyes when looking for interesting people. You were there to find matches for your partner, but you couldn't avoid noticing interesting contacts for yourself.
Quite a couple of late birds (like me) didn't send their presentations to Ed Mitchell on time, so we had to spend time on re-writing our presentations. I was lucky to have my printed one in my bag. I talked to Peter Heisig from eureki, but probably because we were late and a bit stressed, we didn't succeed to do a good work - at least I had problems with finding people Peter should have met. Instead, I found quite a bunch of people I didn't want to miss, so I made my own list and even said hello to these folks, with the promise to talk more later. These were the names on my list: Lale Eidal (DNV) who's company is into GSD, Yvonne Buma, Anne Braithwaite, Corinna Floeck, Celso Flores, Sabine Gary, Jozefa Fawcett, Lawrence Clark (hm...I never met Lawrence though!).
I managed to identify most of these people, introduce myself and tell them we had to talk (sometimes also mentioning the topic). It worked almost perfect, because I found time to talk to almost each of them during the breaks or group activities.
I was thinking of a possible way to improve the exercise, and suggested that next time, we could find our pair online, exchange a few mails, start searching for contacts on the wiki, and come up with a 3-5 names list (and photos!) before the event. Some of the titles suggested for the presentation were a bit awkward:
I am an expert in... I'm looking for expertise in... What should people know about me...
They might work well for consultants, who learned to "sell" themselves...
|
permalink
Saturday, April 08, 2006
Where did all this time go?!
I'm sitting here and looking back and I can't really understand where does this time fly...
I came back from Vienna on St.Patrick's Day in the evening, after joining a group of Irish people in the morning for breakfast at ORF Kultur Cafe - Carl Corcoran
broadcasted his Lyric Breakfast
from there .
As I couldn't reach my friend who promised to host me, I had to spend the night on the Dublin airport - peaceful, warm and safe place.
A little bit of Internet surfing before falling asleep - much too expensive this Eircom wi fi! - and an early walk in the fresh Dublin morning, as the LUAS wasn't working yet at 6am.
Once at home, I sat down and started working on my paper for
ICGSE '06
. I had sent the abstract from Vienna, now I had a few more days to finish the paper. On Tuesday, as I couldn't see the light, I decided to give it up and go back to life. I told myself there will be other conferences, took a hot bath and left for the office. I had a few hours of clear conscience, listening to the
wooshing sound of the deadline passing by
. But then... I got an extension!
From that point in time on, things got out of control, and I went on and on, for long days and nights. Let me try and list a few of the events that followed:
GSD workshop on March 22, having as guest dr. Pamela Abbott, from UCD, who gave a talk on

"Dimensions" of Distance in Offshore Outsourcing Arrangements: Exploring nearshore software outsourcing ventures;

Short paper submitted to the ICGSE:

Knowledge-Related Group Activities in Global Software Development;

Presentation at NUI Galway - Godel seminars- on March 29:

Social Software - What could it do for you?

(an outline can be found here)
Presentation at DERI Galway on March 29 as well:

Peopleware and Globalisation (

Tom DeMarco's influence, couldn't help it;-)
Few other interesting meetings in Galway on that very day: I had the chance to talk to Doug Foxvog, Uldis Bojars and Knud Moeller at DERI, had lunch with prof. Brian Donnellan at NUIG and dinner with Ina O'Murchu, talking about possible future collaboration;
Two abstracts sent to BlogTalk reloaded on April 1 (yes, I was greedy - couldn't decide to give up any of the paper ideas):

The Initiating Journey of a Researcher in the Land of Social Software

, together with Ina O'Murchu, and

Social Software Generated Content as Ground for Empirical Studies

, on my own.
The visit of a British consultant, dr. Michael Hales from SPRU, who spent two days (3-4 April) with our group;
A lecture given to the Imedia students (April 5):

Designing for Online Social Interaction

Participation in an expert seminar organised by the AIB Centre for Information and Knowledge Management- J.C.Spender presented his paper

Managerial Practice:Shaping the Reasoning and Imagining of Others

(same day, April 5).
Busy, busy, busy...if we add the internal meetings and the field visits to the industry...there was no time to breath!
|
permalink
An excellent book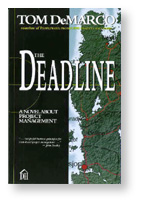 I just finished reading "
The Deadline
" by Tom deMarco, an excellent novel about project management. Here's
a good review
by Richard Mateosian, and the first chapter is offered for preview
here
.
A few words on the plot: Webster Tompkins, a systems manager who has just been laid off from a giant telecommunications company, is kidnapped by a charming spy and brought to the fictitious state of Morovia to organise its software development industry and put to work about 1500 software engineers who are supposed to re-produce six carefully chosen (already existing) software products in a two years period.
From Tompkins' perspective, the four most essential ingredients of management are:
people selection
task matching
motivation

team formation
- and he calls all the rest Administrivia.
Because he has too many people that have to be given some work to do, Tompkins decides to try a controlled experiment, running three parallel projects with teams of different sizes and using different methods. He envisages a sort of
world's first project management laboratory
.
Tompkins is seconded by Belinda Binda -a bag lady who used to be the world's greatest
project manager in her day, and who eventually recovers from her burn-out after embarking upon this experiment. She had also been kidnapped and offered Tompkins' position before, but she declined and found refuge on the Morovian beaches searching in containers.
Reading the book was a delight, I was looking forward to the evenings and to travel time when I was able to continue reading.
I particularly liked this conversation between Tompkins and Belinda Binda, where Belinda explains that management involves heart, gut, soul and nose.
The 'heady' leader can lead, but people won't follow
.
You can't do much about
the heart
you've got, and
maybe you have to be born to it
. However, there are people who
grow into management
;
they start awkward and become confident and eventually make wonderful managers.


The soul
has to do with the fact that projects prosper to the extent that people learn to work together effectively. If they work entirely apart, a bunch of piece workers in different places who didn't even know each other, then soul wouldn't matter. Management would be a simple matter of coordinating their efforts. It would be an entirely mechanic process.
..the real world requires close, warm, and almost intimate interconnections between team members, and easy, effective interaction through the whole organization.


And
Belinda emphasizes that the manager can't
make
this happen - he has to
let
it happen, to create an atmosphere where it
can
happen. If he's lucky, it
does
happen. That's what she calls
building soul into the organization
.
She also speaks about a team's need for a shared vision (could be a cult of quality work, the feeling of being an elite or simply integrity): ...
the group desperately wants to be unified. The human creature has - built into its firmware - a need to be part of a community. And, in today's rather sterile modern world, there isn't much community to be had
.
The scene is absolutely fantastic - a top manager getting advice from a bag lady in a Morovian park on soul and community;-)
And it relates to my current work - how to create this atmosphere where
flow can
actually happen ? From user-centred design to team-centred design - isn't this what
CSCW
is all about?!
|
permalink